Have a piece of the Moon on your Wrist

This watch is a world's first !
It is the first and only watch that offers a central Moon Phase display, where the Moons are made out of real Moon rocks.  A version also includes a dial made out of a Meteorite that is older than Earth, and another version offers you pieces from Three extra-terrestrial objects : the Moon, Mars, and the Muonionalusta, a metal meteorite.
If you want to have more information, and/or if you want to be the first to know when the Kickstarter campaign starts, please leave your Name and Email below.
Stay informed of the Kickstarter Campaign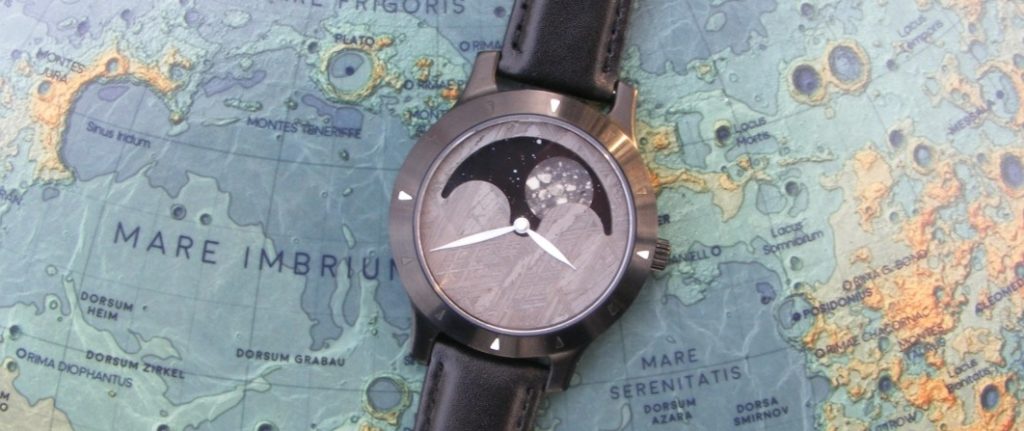 In August 2018, I was browsing Internet for new ideas of watches, when I discovered that it was possible to buy Lunar Meteorites.  Yes, real pieces of Moon rocks.  At first, I was doubtful…  Was it some kind of joke or scam ?
But no. There are pages about Lunar Meteorites on the NASA site, on the University of Washington, St Louis (which is one of the most comprehensive page)…
I knew about watches which displays Moon Phases. I immediately thought that it would be a great idea to have a watch with a Moon Phase, where the Moon would be made out of real Moon rocks !
The project was born.
Sky Map (Stainless Steel)
Aventurine (Blue Goldstone)
Muonionalusta
Muonionalusta & Mars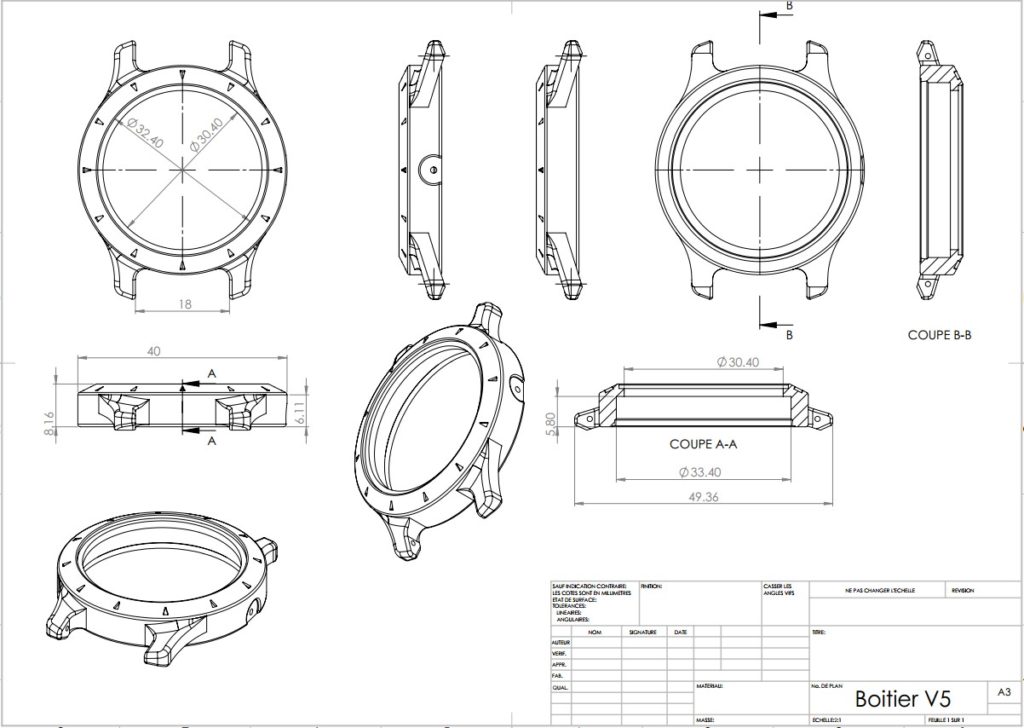 Case : Stainless Steel with black PVD coating. 40mm diameter. 10mm thickness.
Glass : Sapphire
Back : Engraved Stainless Steel
Movement : Modified Swiss Ronda 708. Quartz
Moon Discs : Diameter 10mm ; Thickness 0.7mm
Martian Disc : Diameter 7.8mm ; Thickess 1 mm
Straps : Black Leather strap + custom printed NATO style strap.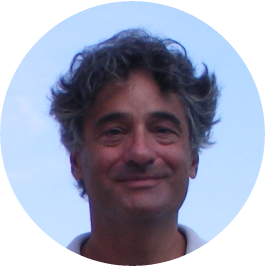 JJ Casalonga
Watch Designer
I've been creating weird things for as long as I can remember. Origami models, watch designs, stories, apps… This Lunar watch project is my most ambitious so far. This is why I wanted to team up with the best.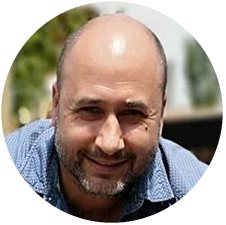 George Penneff
Meteorite expert
George is a professional Meteorite dealer and cutter from Bulgaria. His expertise in cutting fragile and delicate Moon and martian meteorites into thin discs was critical in the success of this project.
Virginie Rouffignac
Photograph
I've known Virginie for more than 30 years, when we were doing Origami together. She then dessigned costumes for the theaters. She also is a photograph for Auction catalogs. And she designs Lingerie.
I've been working with Hanth since my HDD watch project. The quality of the production is top notch. The Shenzhen TimeEasy watch company is one of the best.

She's been with us for the last 4 Billion years, accompanying our nights, giving us our first calendars. The Moon was kind enough to send us some of her rocks, via Meteorites.
Mars, the Red Planet, is fascinating on so many levels. The presence of water is certain. The big question now is wether some life existed. The NASA's Curiosity Rover have been exploring its surface for the last 7 years (and counting…), followed by millions of people.
And I'd like to thank the following persons who helped me with this project :
Nalin Chuapetcharasopon, my Kickstarter coach. Lots of great advices.
Sal Briggman, for his videos and book on how to run a Kickstarter campaign.
Raoul (a.k.a Vasco 2 Gama) for his support, encouragements and advices.
Pierre Antonin, a French Meteorite hunter, for his support and advices.
Viola, who is my contact for the company who produces the wooden box.
Kallen, who is my contact for the Aventurine dials.
The team of the Voyager 3 Astronomy club in Sévérac (Bretagne), for their time and brainstorming session with me.
Séverine, Florent, Alexandre, who have been so patient with me.